Services
Classic Full Set Eyelash Extensions - $125 - Classic eyelash extensions are applied individually to each healthy natural lash. A very natural "one coat of mascara" look. Appointment time 1.5-2 hours
Volume Full Set Eyelash Extensions - $195 - Volume eyelash extensions are ultra thin extensions which are fanned by hand. 2-6 extensions are wrapped around each healthy natural lash. Fluffy, full and a dark lash line. Looks great on anyone who loves to do a full face of makeup. Appointment time 2.5-3 hours
Hybrid Full Set Eyelash Extensions - $165 - A mix of Classic and Volume extensions. A happy medium - not too natural not too glam. Appointment time 2.5 hours
Mega Volume Full Set Eyelash Extensions -$225 - Mega Volume uses the thinnest extensions on the market to build "mega" fans of 7-12 extensions per natural lash. This set resembles a "strip lash". Very dark and dense and full of drama. Appointment time 3-3.5 hours
Demi Set Eyelash Extensions - $80 - Demi Sets are the most natural set of extensions that we offer. An extension is applied to every other healthy natural lash. This look is great for girls who have fuller lashes and just want to amp up what they've already got. Appointment time 1 hour
Fills
2 week fills, must have 50-60% of your extensions left to be considered a fill
3 week fills must have 30-40% of your extensions to be considered a fill
4 weeks is not considered a fill any longer - please book a full set.
Classic Fills - $25/ week
Volume Fills - $35/ week
Hybrid Fills - $30/ week
Lash Lift & Tint - $100 - Our lash lift & tint is one of our most popular services. using the fastest lash lifting system in the industry, we perm your natural lashes and tint them true black for a rich mascara look, without the mascara! This service is great for a super natural babe. the no-makeup makeup look is in and this service will have you rolling out of bed looking fab with zero effort. this service lasts 6-8 weeks with no maintenance. Appointment time 30-45 minutes
Brow tint & clean up - $25- Tints your already great brows for a bit more definition. we will tweeze and clean up the brow area for a polished clean look. Appointment time 20 minutes
henna brows -$60- want fuller looking brows but not ready for microblading? with henna brow, our technicians can give you the shape and fullness you want which will last on the skin for up to 2 weeks (results vary depending on skin type) and on the hair and for up to 8 weeks. henna brow is nourishing for the eyebrow hair as well which encourages hair growth. appointment time 1 hour
Microblading -$550- Microblading is a semi-permanent tattoo technique used to create the illusion of fuller brows. With this method we can create almost any look: from a very natural light finish to a beautifully bold brow. we will set up a consult with you about the best brow shape for your face and choose a colour that matches the natural hair colour and skin undertone.
eyelash extension Removal -$25
spray tanning - $50- A customized tan from light to dark using professional grade st. tropez product. we offer this service on thursday evenings so you can get your faux glow on right before any weekend. lasts 6-8 days. appointment time 30 minutes
tattooed freckles (semi permanent)- $250- (includes one "touch up" appointment. any additional appointments are $150) Freckle tattoos are the latest semi permanent makeup trend. this service is completely customizable. whether you're looking for a youthful full face of freckles or a simple beauty mark or two, we/ve got you covered. we'll make your freckle appointment as comfortable as possible by using a topical numbing cream. freckles heal very soft in the skin for the most natural look. Appointment time 2 hours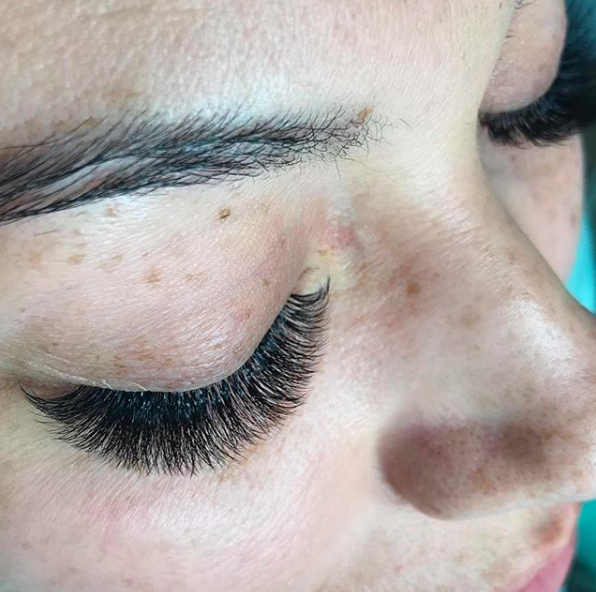 Owner of Lash Ladies Hamilton
Multiple times certified Eyelash Technician
Award Winning Lash Lift Technician
Certified in Freckle Tattooing


Owner of @lashouthamilton
Multiple times certified Eyelash Technician
Spray Tanning Technician
Certified Henna Brow Technician
Owner of @brow_savvy
Certified Microblading Technician
Certified Microblading Trainer
Certified Henna Brow Technician
Owner of @doe.eyed.byleonie
Multiple times certified eyelash technician
Owner @lbjlashlounge
Multiple times certified eyelash technician
Please keep your extensions dry from any moisture including sweat and steam for 24 hours after application.
Do not use any products that contain oil or high amounts of glycerin within the eye area. (Oils break down the glue bond, resulting in premature extension shed)
Natural oils must be cleansed away DAILY for maximum retention. This means washing the eyelid and extensions with a lash cleanser or baby shampoo.
Pat dry after cleansing and use mascara wand to comb through. Giving your extensions a brush every morning after cleansing will keep your set looking fresh and fluffy.
Avoid sleeping on your extensions.
Do not pick or pull at extensions.
CANCELLATION POLICY
You can cancel online up to 24 hours prior to the scheduled appointment. Please advise that any appointments cancelled with less than 24 hours notice will be charged the full amount of the service missed.
Please note that we do not fill other technicians work. We ask that you book a removal followed by a full set if you are wearing extensions from another salon.
PLEASE COME TO YOUR APPOINTMENT ALONE - We're social butterflies but our studio is a small space. Please do not bring your friends or little ones in with you for your appointments. Thank you in advance!
THE STUDIO
767 King St W
HAMILTON, ON
L8S 1J9
Contact Us
LASH.LADIES.HAMONT@GMAIL.COM
(905) 220-5513